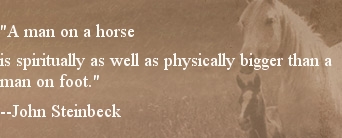 Instructors / Trainers

           Welcomed and needed

                         GREAT LOCATION !!! 

Summer camps have always sold out... Generating new students each year.

 You'll be running your own show...     

Training, Selling, Schooling, Lessons,Summer /day camps                                                                             Etc, Etc,...           

                WHATEVER YOU WANT TO DO . . .

  You'll need . . .

                - Gen Comp. Liability

              - Your own horses

               - Experience & References

               - Transportation

 This farm was started with the intent of offering a very functional facility for an instructor.  We take very good care of the facilities and the horses; offering what ever level of care the owner wants for their horse. Then the instructor/trainer can concentrate on the students, the

training, & the schooling. 

                                          Ideal for endurance and eventing!!! 

     You have a private barn w/ runs; separate from the boarding barns to operate the camps, and lessons out of . You even get a discount towards your board,- based on the number of lessons you do a month. Plus discounted board based on number of horses boarding here because of you . And a per horse comission . I make it as easy , for you , as I can .

                                   Lodging available.